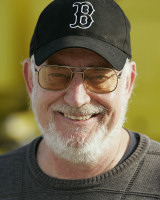 First of all, I have to admit I am not a computer gamer. I'm from an older generation who accepted the need and convenience of computers and the internet, but didn't embrace computer games. In fact I'm a Luddite who has zero experience to speak of with computer games or racing simulators until I recently had the pleasure of trying one of iRacing's simulators at their headquarters in suburban Boston.
I haven't driven a racing car in twenty-five years so I was surprised at how quickly I took to it and how much I enjoyed the experience. The beauty of iRacing.com is that you not only can practice in a wide variety of cars on an equally rich variety of road courses and oval tracks but you can also race against a field of drivers with roughly equal skills. iRacing.com was launched at the end of August and has already attracted 8,000 subscribers.
The company was founded in the fall of 2004 by Dave Kaemmer and John Henry and many years of development went into the software, hardware and track-mapping required to launch iRacing. Kaemmer is a successful amateur racer and software engineer whose previous company, Papyrus Design, created a number of racing simulators, including Grand Prix Legends. Henry is the primary owner of the Boston Red Sox baseball team and co-owner of the Roush Fenway NASCAR team through his Fenway Sports Group.
Kaemmer and Henry wanted to create a racing simulator that was more realistic than anything else and would therefore encourage not only fans but also real-life racers to use the iRacing experience to learn every detail of the tracks they have mapped. They imagined drivers and teams using the iRacing system to practice, test and gain advantages, and in the four months iRacing has been on-line they've gathered many advocates. They're also talking to a handful of car builders about developing purpose-built systems to help in the testing and development of their cars.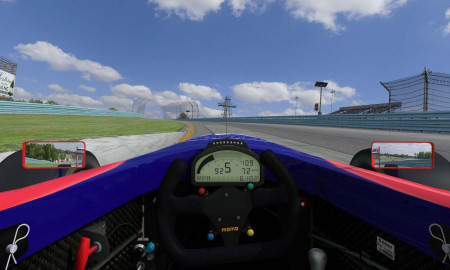 © iRacing.com
One of the secrets to iRacing's virtual reality is the detailed track-mapping system the company has developed using very high resolution laser scanners to gather up to 250 million points of reference and some 5,000 photos of the most complex road or street circuits, costing around $100,000 per track. The result is that every little bump and variation in the pavement and subtle changes in the camber of the road surface are there for you to negotiate just like in the real world.
Again, I have no experience in simulators and therefore no reference points of my own but I was immediately struck by how iRacing provides a tremendously realistic feel for the car and track. I drove a Star Mazda car round the Lime Rock and Watkins Glen road courses and a late model stock car on the tiny South Boston, Virginia oval and I couldn't have more enjoyed my few hours of driving.
To get a better appreciation for the value of iRacing to real racers I talked to Alex Gurney, Justin Wilson and Jacques Villeneuve, each of whom have limited experience with iRacing. Gurney is a top competitor in the Grand-Am's Daytona Prototype category, co-driving Bob Stallings' Gainsco Riley-Pontiac with Jon Fogarty. Gurney and Fogarty won the 2007 Grand-Am championship and finished second in the '08 series.
"I haven't done any racing on iRacing," Gurney commented. "I just use it for practicing. I pick out certain tracks and try different things. I've driven it a decent amount. Every few days I get on it and try it a little bit.
"The tracks themselves are spot-on," Alex added. "They've done a great job of simulating the tracks. It's pretty impressive. A few times now I've driven at the real track and when I came back home I tried it on the simulator and it really is very, very close. I was impressed for sure.
"I did one race at Laguna Seca. I met the iRacing guys at a show in San Clemente and talked to them about it and Scott McKee allowed me to drive the simulator which I really enjoyed. And Scott wanted me to do a race, which I did. So we pulled up the race and Dale Jr. just happened to be in the race. I guess he's on it all the time. This was a Pontiac Solstice race and he showed everyone he's definitely a good road racer because he whipped everybody."
Justin Wilson was the European F3000 champion back in 2001 and has raced in F1 for Jaguar and Minardi, and Champ Car and IRL for Mi-Jack/Conquest, RuSport and Newman/Haas/Lanigan. Justin won Detroit's Belle Isle IRL race last August.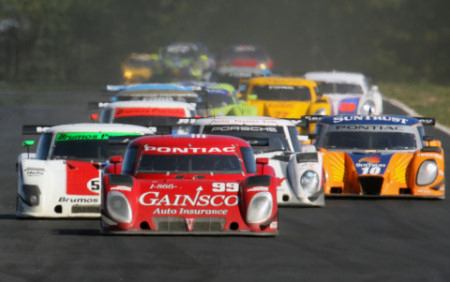 © LAT USA
"I love iRacing," Wilson said. "It's a lot of fun. It's good practice. The physics are good and realistic, and it's as good as it gets. You have all the bumps and all the changes in surface. The level of detail is what's so impressive and that's where it starts to become very useful because you can learn tracks before you get there.
"That's what the video games in the past and simulators today were always good for but when the simulation is to iRacing's level you can start working on the finer details like, 'Do I shift before this bump or after it? Or do I try to avoid this bump, or go straight over it?' You can start to work out all the compromises you have to make which you can't do in any other game. With the other games you're just working out the background scenery and roughly what the corners look like.
"So it is a very useful tool and the more tracks they come out with the better. I'm hoping that soon they have a nice, fast open-wheel car. Then it will be even more valuable for people like myself."
In fact, iRacing's fleet of cars is far from complete and a powerful open-wheel car will be added to iRacing's stable sometime next year. Wilson also said that just like the real thing, practice makes perfect.
"I did quite a bit of iRacing at the end of last year but this year I've been so busy I've been on only a couple of times a month," Justin added. "So I haven't done as much as I'd like. In fact, I did a couple of races before Thanksgiving and made a big mess of it all. I kept spinning off on my own. I said, 'This is not good.' I was too impatient. So it's definitely something you have to put in a bit of practice time before you go and race."
Jacques Villeneuve won both the Indy 500 and CART championship in 1995 with Team Green and took the 1997 World Championship with Williams-Renault. Jacques lives these days in his hometown, Montreal, and hopes to race in NASCAR's Sprint Cup series in 2009. Villeneuve grew up playing computer games and is very impressed with iRacing.
"I'm a real gamer," Jacques remarked. "I'm probably as big a gamer of all the drivers. I programmed some games when I was younger. I've been a normal gamer for the last ten years, mainly with role-playing games like EverQuest and stuff like that."
"Years ago I worked on a game with Ubisoft and it was never finished. They launched it anyway but my goal was to do something a bit like iRacing. But it was too early for the internet so I'm happy to see something like that. I hope it goes well. It's fun and a great project."
As a highly-accomplished racer Jacques is a big fan of the reproductive quality of iRacing's tracks. But he adds that from a gamer's perspective the reality of the tracks doesn't matter.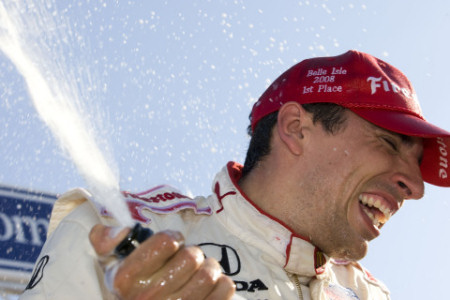 © LAT USA
"There's good and bad," he observed. "It depends on what you're after. What I found that was good about iRacing is how real the tracks are. They're great. The iRacing tracks are beautifully made and very close to reality. The tracks look great, like Laguna Seca, for example, but all of them look great. That's a good aspect.
"But as a gamer, I personally don't care how real the tracks are because I drive on them in real life. Real life and gaming are two different experiences. In some games there are a lot of tracks that are made exactly like in real life with chicanes, and so on, but if you're in a gaming aspect either change the layout a bit, or add character so you cannot cut the chicanes, because ultimately, who cares how real it is, as long as you're having a good racing experience on-line with other racers."
Villeneuve points out that iRacing's strictly-enforced rules of competition are another plus.
"They have a penalty system for when you put wheels off and so on," he said. "So that makes cutting the chicane not a problem anymore. So that's another good aspect."
Like most drivers, Gurney doesn't have a simulator. He uses his own seat and a laptop computer to go iRacing.
"I have my own little race seat, just a standard set-up you can buy," Alex said. "Then I've got a 32-inch screen. It doesn't move or anything. It's not a full-on simulator."
Gurney tried Chris Considine's highly-rated CXC simulator and was very impressed.
"I've tried my system on his simulator as well because you can run different software in his system and that was super impressive," Alex commented.
But even Considine's simulator can't equal the feel of the g-loadings generated by a real racing car. Some aerospace companies use centrifuge-mounted simulators that could be adapted by iRacing in the future but it would be very expensive.
"I don't know how they'll ever simulate the g-loads," Gurney said. "Considine's simulator has the full motion but I don't know how you ever get the real feel. That's impossible. But they're getting closer and better all the time."
Villeneueve agrees that the g-forces are impossible to replicate.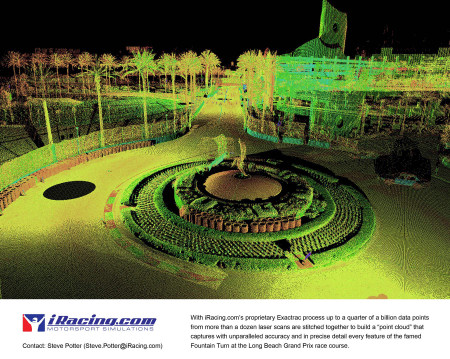 © iRacing.com
"You cannot recreate the g-forces," Jacques remarked. "You cannot recreate three or four gs. It's just impossible. Some simulators will do a huge amount of helmet movement, which is wrong because in real life your head moves forward a little bit so you get closer to the dash and you physically feel it. But when you do that in the game, visually your head moves inside the frame and that's wrong.
"So you should never put helmet movement in the simulator. A lot of simulators do it to an extreme level, thinking, that's the right way. But it doesn't make it real. It just makes it impossible to drive."
Villeneuve, the inveterate gamer, prefers to operate any computer game using a stick or hand-held controller rather than a steering wheel. In fact, Jacques would prefer a stick rather than a wheel in a car, too!
"I hate steering wheels on games because it's not a race car, it's a game and you can't make it real," Villeneuve commented. "It's just impossible. You cannot one hundred percent simulate the wheel unless you spend millions and millions.
"A steering wheel, even in a car, is not the best thing that exists to turn the wheels. Steering wheels were invented a hundred years ago because there was no power steering and you needed something to turn the wheels that would take away the power that's required. But it's not the best thing to use to control a car because you have to move all your shoulders and your body.
"When you're cornering in a fast, physically difficult position in a race car the steering wheel is actually bad. You'd be much better with a hand-held controller because you have much more control with your wrist and fingers. So that's why I don't want to contrive myself with a steering wheel when I'm actually gaming."
Jacques adds that a stick or hand controller is also much easier to pack for travelling.
"When you travel, it doesn't make much sense to bring a steering wheel that's bigger than your lap top," he half-joked.
A few years ago Jacques tried some hand controls on a go-kart.
"I don't think it would be legal in F1, but when I was at BAR we had a go-kart made like that with some special handles and it actually worked really well. Some more secret work was done on it after that."
Villeneuve says he would have become an iRacing regular had he been able to adapt his preferred Xbox controller to the iRacing system.
"The one thing that got me going in iRacing was this point system where you have to accumulate points to get a better licence and so on. It's almost like a role-playing game a little bit. You just have to keep on doing it.
"But then I didn't get into the game enough just because I couldn't set-up my controllers well enough. The game is meant to be a simulation so it kind of forces people to use a wheel. But that makes it very awkward to set up your controls. It's very difficult. So basically that's kept me away from the game.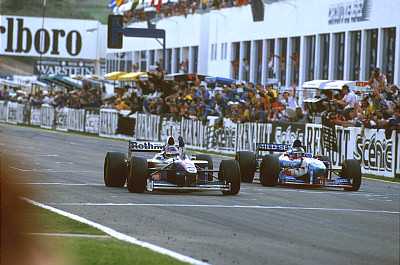 © LAT USA
"You have to move through the ranks and move your licence up before you get into the big cars, which is fine. That's good. So I haven't really got into the cars enough to do a lot of set-up work to really tell you how close it is. It looks like a lot of work has gone into that part of it so it's probably quite close. But again, the fact that I couldn't set up my controllers the way I prefer is the reason I haven't really got into it."
Even though yours truly performed well below the limit when I drove one of iRacing's simulators I was surprised to discover that I could go faster and feel more comfortable and secure after playing with the setup with iRacing vehicle dynamics engineer Ian Berwick who's also an experienced race engineer. The iRacing system allows you to make all kinds of setup changes from ride height to shock response and roll stiffness--just like the real thing. Villeneuve says this is a great plus for iRacing.
"Ultimately, it doesn't matter that the car itself is one hundred percent real compared to the real-life car," Villeneuve observed. "The only thing that matters is what happens when you change the setup. Even though it's not the real reaction, there's a reaction and you learn from it. That's what's good about simulation.
"You don't actually want a one hundred percent copy of the real car because if you have the perfect real race setup there's no way you could drive it on a computer. No way. It would be undriveable because you just have to use your eyes and there's a little bit of a delay.
"But it's great tool to get you used to working on setup and spending enough time so you can think, okay, I'm driving like this. Should I change my driving, or should I adapt the car? What should I do? So it's a way to find tricks to go faster and that's the key to racing."
Over the years I've argued with some F1 designers, Patrick Head included, about their predilection for demanding that drivers adapt to the setup given them by the team rather than allowing them to adapt the car to suit their driving style. I joked with Jacques that some F1 teams, Williams in particular, believe it's an anathema to permit their drivers to mess with the setup.
"It's what drivers have been saying for years," Jacques remarked. "There isn't the best car. Every driver drives differently so there isn't the best setup. Luckily, they let me do my own setup when I was there at Williams. Even though it made them angry, I still did it my way. I'm their last World Champion and I won despite them, and that really made them angry!"
Despite his criticisms Villeneuve thinks iRacing is a tremendous tool for any racer.
"I think iRacing is a great tool and has a lot of potential," Jacques concluded. "It's not necessarily what I'm looking for because I've been a gamer for way too long and I'm not looking for something that's realistic. I'm not saying, 'Wow, I'm lucky! I'm driving Laguna Seca.' I'm doing it as a job.
"The on-line racing is also a great tool to force you to stay calm, to be patient. It teaches you when to go stupid and when to not go stupid. It's really good for that."
I suggest going to www.iracing.com to take a look at everything on offer and give it a run. You can buy a one-month subscription for $20 or a one-year subscription at $13 per month.
Meanwhile, I'm taking a break for the next two weeks and will return to action here on Monday, January 12. Enjoy yourself and have a Merry Christmas and hopeful New Year.