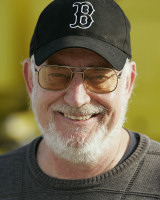 Dan Gurney and his superb line of All American Racers Eagles will be celebrated at next weekend's Monterey Historics at Laguna Seca. Many of the great Eagles--F1 cars, Can-Am cars, Indy and GTP cars--will be on hand and a reception will be held at the track on Satuday evening to raise a glass of champagne to Dan, his team and cars.
As far as I'm concerned Dan's many accomplishments as a driver, car builder and team owner place him in a class of his own as America's greatest racing man. In December of 2006 I wrote a column in this space arguing my case. You can find the column by clicking on 'previous columns' at the top of the page. Go to the archive for 2006 and click on #38, posted 12/18/06.
Dan's driving career spanned sixteen years from 1955-'70 and included victories in F1, Indy cars, Can-Am, Le Mans and other long-distance sports car races and NASCAR too. He started Dan Gurney Racing in 1962 and founded AAR in 1965. Over the following 34 years, through 1999, some of the word's most beautiful, innovative and effective racing cars were conceived, designed and built at AAR in Santa Ana, California.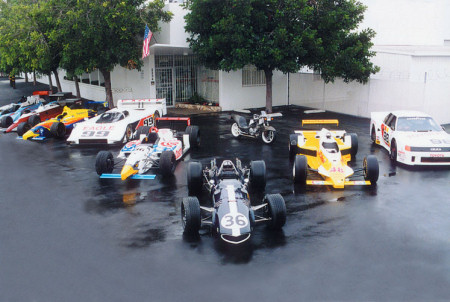 © Eagle Racing Cars / All American Racers, Inc.
In Dan's driving days the top drivers raced F1, sports cars, Indy cars and stock cars. There's no comparison between any modern driver and the great drivers of the sixties like Dan, Jim Clark, Stirling Moss, John Surtees, Jackie Stewart, Mario Andretti, A.J. Foyt, Parnelli Jones and Mark Donohue who raced successfully in almost every conceivable type of car.
In those days, the sport enjoyed immense diversity with F1 and NASCAR drivers and sometimes teams from other major leagues competing at Indianapolis as well as in the original, unlimited Can-Am series and in races like the Los Angeles Times GPs and Rex Mays races at Riverside. And at Le Mans, all the top F1, sports car, Indy car and stock car drivers converged to drive Ferraris, Porsches, Maseratis, Fords, Corvettes and gosh knows what else.
"Even today, when I look back, I'm pretty amazed at all the arenas that I competed in," Dan acknowledges. "Now that I'm no longer with such skills, or judgment, or ability, it's pretty surprising that you could step into damn near anything and in a relatively short period of time be running as fast as any hot-shot in that category was going to be able to do. That was a pretty good feeling.
"When I look back, we were pretty busy and we were pretty confident and very curious because we were doing things that were pretty far out. It kind of staggers me when I look back at all the different things we were doing. Especially when you look at it from today's perspective and the way they do things where you're not allowed to be creative anymore."
Racing is much less rich today with each category--Formula 1, sports cars, IndyCar and NASCAR--strictly separated from each other and no cross-over at all in drivers, teams or cars.
"Sometimes I rail against the bureaucratic side and the exclusion of creativity and diversity from the sport," Dan comments. "As a fan you like to be able to see the top guys in this category race against the top guys in these other categories. Now, in the United States at least, it's all become tilted in one direction towards NASCAR.
"Today there's less cross-pollination, less willingness to race in other categories or types of cars like A.J. and Mario used to do in dirt cars and Champ cars and stock cars and sports cars. A NASCAR driver seldom races any other types of cars. Tony Stewart is one who still races midgets and other types of cars and has raced Indy-type cars. But you don't see as much of that today, and certainly in Formula 1 they just don't do it.
"They can say it's because they're so busy and have to specialize in this formula," Dan adds. "That may be true. But the fact is they don't subject themselves to the magnifying glass that they would if they ventured out into some of these other disciplines."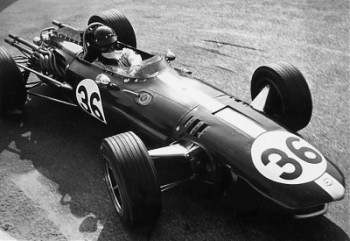 © LAT USA
Like many fans in America and around the world Dan believes the modern F1 world championship doesn't necessarily produce the world's best driver.
"I've often said Formula 1 Grand Prix racing has usurped the title world champion. Many world champions are very worthy of the title, but some of them are less worthy. If you say, 'world driving champion', that's not quite the same as, 'world Formula 1 racing champion'. There's a definite difference. There may have been, and may still be, guys who don't get a chance to drive Formula 1 who do a phenomenal job of driving in something else. So I believe the world Formula 1 champion says in a very imprecise way, here's the world driving champion, and I object to that."
Dan has always been one to find his own path against the accepted trend. In many ways this is the essence of the man's infectiously free spirit.
"I feel that there's a joy in being unconventional or questioning conventional wisdom," he says. "Why are things the way they happen to be and what's the history of how it evolved? Often you find out it wasn't decided on merit, it was decided by some outside aspect--a political decision, or bureaucratic mess, or lack of leadership, or all kinds of other things."
Through AAR's thirty-four-year run as a race car constructor, innovation was always essential to the company.
"There's a huge, gratifying feeling on the rare occasions that any of us come up with an inspiration to do something innovative," Dan remarks. "The personal rewards, and just the feeling, is enormously good. Part of what gave us the ability to be creative is the old thing--necessity is the mother of invention--and the passion and curiosity about why things work. It's about the ability to picture what's going on and discuss things with other people who have thought about it longer than you have, or have a different approach.
"It's a fun thing to do, for sure. You appreciate other people doing things when you read the history books. If you feel that in some small way you can join this illustrious bunch of people who have done things, it's worth having a go at it."
In many ways Dan is a man whose time has passed. He was a Southern California hot-rodder who grew up in the can-do days of the forties and fifties and was party to many of racing's great technological breakthroughs during the sixties and seventies. But over the past thirty years the prevailing view of the sport's rulesmakers and powerbrokers has run antithetically to the spirit of All American Racers.
For years any kind of major innovation has been expresssly prohibited from racing's rule books from CanAm through USAC, CART, IMSA, IRL, even F1. Today, in all categories, the general layout of the chassis, aerodynamics and engine are very strictly defined. There's no room to introduce a 1963 Lotus-Ford Indy car for example, or a Gurney/Weslake V12, or an '81 Eagle-Chevy, least of all a turbine-powered car or a Chaparral in all its high-winged glory.
"As a fan," Dan observes, "I think the idea that you couldn't predict how the next race was going to shape up and what new technological innovations were going to crop up was fantastic. The idea was that the rules were essentially open. You could probably put the rules on one page and I think that was a huge draw to drivers, engineers--all the people involved--plus the fans. It's a shame to be railing against bureaucrats all the time but the idea that there was open creativity with the cars was very important."
Dan fondly recalls the intellectual effort that went into inventing things like the Gurney flap.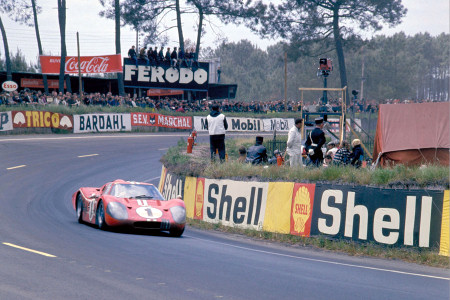 © mazdaraceway.com
"The intensity of focusing and thinking when you're in that situation is just mind-boggling. You seem to be able to come up with things in those situations. Necessity is the mother of invention, and darned if that doesn't have a lot of the ring of truth to it. The competitive drive, the intensity that is involved, makes things happen.
"I'll be the first to admit that there were times when I was wrong, but it didn't change the fact that I was going to keep trying. On the other side, if you're just going by the herd rule, that's where you end up--with the herd."
Dan believes wings should be eliminated from racing cars. He'd like to see at least one sanctioning body try an experiment of testing cars with ground-effect underbodies but without any external wings. He believes this would form the basis of a new formula for the future with less aerodynamic influence on the cars making it possible to see more outbraking and passing.
"To me, in terms of the spin-off to road cars, wings are irrelevant," Dan observes. "They've also distorted the whole driving picture. I would study it carefully and get rid of wings."
He thinks AAR's highly successful Toyota GTP car from 1992-'93 could form the perfect basis for the ideal hi-tech race car of the 21st century.
"It should have tunnels, somewhat like our GTP car," Dan says. "It should be basically a tunnel car without wings with a 'spec' rear spoiler."
Speaking three or four years ago, Dan synopsized his recipe for the race car of the 21st century. Remarkably, but perhaps unsurprisingly, his concept is almost identical to Ben Bowlby's Delta Wing design.
"It would have an underbody and no wings," Dan remarked. "Having a limited spoiler on the back would be real easy to police and monitor. It would have skinny tires and a tiny little engine. You need to keep the tires relatively small because in this day and age you can get pretty good brakes relatively inexpensively. A four-cylinder engine can put out a lot of power and is probably the least costly.
"It probably doesn't need anymore than 650 horsepower. I think it should be no bigger than 1,800 cc. It could be as small as 1,000 cc. 300 horsepower per liter is not hard to make on essentially pump gas. You could maybe even allow two-strokes, if they could match the emissions or fuel usage--something that would have some relevance to what's going on in the world. You probably also need to restrict some of the metallurgical side of things."
Dan believes some creative thinking is required by the sport's power brokers to encourage racing to develop new technologies and power sources.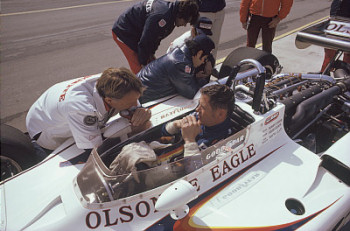 © LAT USA
"There should be huge interest in these things from the industry," he muses. "I think there needs to be a good citizenship aspect to it. In the end, you're going to be competing in the future with fuel cells and hybrids. Why make it so you essentially can't compete? Why not open it up so the fuel companies will say they'll find some of their future edge through racing?
"Maybe the piston engine has more lives yet. Maybe it could be something else entirely. That requires a lot of thought. But if you could figure out a way to make really good mileage through racing, that would surely be good.
"What do people want to see?" Dan adds. "Do they want to see who can do it best? Do they want to see something else? Maybe racing overall is getting obsolete. That thought does come to mind, doesn't it? Today and for many years, it's been about making the cars slower and cheaper rather than faster and more interesting."
Indeed the sport has seriously debilitated technologically as 'spec car' formulae of all kinds proliferate in the 21st century. Even at the top levels, teams are not allowed to tinker in any way with their engines because of strict contracts with the engine suppliers. Remember that over the years AAR built its own engines as well as cars from all types of Ford V8s for Can-Am and Indy car racing to the Weslake V12, turbo Offies, all-aluminum Chevy V8s (Dan's ultimate hot-rod engine from the '80s), turbo Cosworths and some early Toyota IMSA engines.
"The rules have become such that the factories are the only ones that are allowed any creative input." Dan notes. "Since Toyota and Honda started racing in CART in the nineties and the IRL in 2003 you have to sign a release from them that you cannot look inside the engine. You can't do anything. They passed a rule that said you're not allowed to compete with them.
"When they started doing that I said, 'Why would you do that? Why stop innovation? Why stop creativity? What effect does that have on young people coming along and wanting to learn about those things?' The answer is it bleaches them out. So the social consequences of the way the manufacturers have control of the rules really bothers me. If these mega outfits aren't pushed to do something, nothing new will happen. Maybe the hundred mpg carburetor that everybody jokes about is out there, but we won't find it the way the rules are written today.
"You're not allowed to do what you want anymore," Dan adds. "You're damn near classed as a criminal because you might want to continue to be creative against the bureaucratic rules. The freedom to be creative is what I liked so much about the sport and it's just been wrung out of it by the bureaucrats."
Gurney believes writing and enforcing effective rules remains the biggest challenge for the depleted worlds of IndyCar, ALMS and GrandAm racing.
"If you're going to make rules, you should be able to explain exactly why and what you hope the consequences are going to be," Dan comments. "After you get some experience, go back and check your theory with what actually took place. Pretty soon you probably will end up with something that's pretty good. But people tend to get caught up in the competition of the sport so there's never time to think about these things, which is a mistake. That is a consequence of a lack of leadership, and you're also up against the fact that human nature doesn't like change.
"You've got to have a strong guy in charge who has vision and is stubborn enough to not get sandbagged every time a debate about the rules comes around," he emphasizes. "Somebody has to say I'm the dictator. I'm willing to have a discussion about this and then I'm going to make up my mind. That's the way it's going to be.
"As great as NASCAR is," Dan adds, "it's still as much an exercise in politics as it is engineering. Isn't life that way? Well, not necessarily. If you had the freedom to follow your passion to do things in a creative way that's harking back to an era when a lot of things could take place in the horse and buggy business, in the automobile business, in the aviation industry, in the racing industry, and in what became Silicon Valley. To shut off that faucet is a shame." At 79, the spirit of adventure and innovation burns brightly in Dan Gurney's heart. Would that modern motor racing, not least America as a whole, could re-embrace Dan's grand spirit.