Presented by Racemaker Press

"There's a lot of junk out there today. If you want it straight, read Kirby." -- Paul Newman


The Way It Is/ Roger Bailey reflects on his amazing career
by Gordon Kirby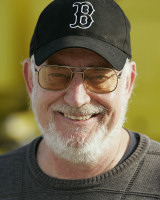 Roger Bailey's remarkable career in racing spanned more than half a century. He spent the last half of his long career running the Indy Lights series through three different iterations after making his name as a chief mechanic and engine builder in Formula One, sports cars and Indy cars.
Included on Bailey's amazing resume are winning the British F3 championship with Jackie Stewart in 1964; helping build the Le Mans-winning Ford mk 2s in 1966; spending three years between 1967-'69 as Chris Amon's personal chief mechanic at Ferrari in Formula One, sports cars and Tasman cars; building McLaren's Can-Am and Indy car engines through the early and mid-seventies, including the incredible 1,100+ bhp turbo Offies which powered the McLaren M16s with which Peter Revson and Johnny Rutherford qualified on the pole at Indianapolis in 1971, '73 and '76 and Rutherford won the 500 in 1974 and '76; and working as IMSA's technical director from 1980-'84.
In 1985 Bailey became the operations boss of a new series bankrolled by Pat Patrick called the American Racing Series. The ARS became CART's primary support series and was reborn in 1991 as the Firestone Indy Lights series and recast again following CART's failure as the IRL's Indy Pro series. Bailey ran the series for 26 years and was ready to go again this year before finding himself compelled at an energetic 70 to reluctantly retire just before the season started.
"I would've probably stayed for another two or three more years," Bailey remarked. "I would like to have stayed long enough to build one more really fantastic Indy Lights car that people would have been proud to own and race, but unfortunately that's not going to happen under my reign.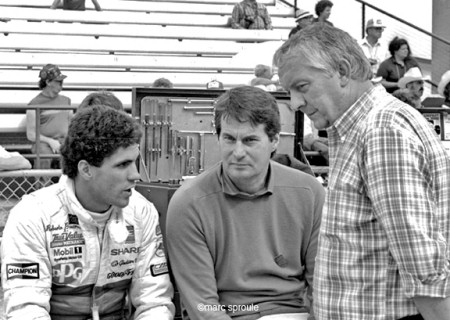 © Marc Sproule
"I had a fairly good offer to join another sanctioning body but I don't think that's what I want to do right now. I think I've had a good run and I think I'll just say, hey, that was a great ride and enough is enough. Under the current regime I don't see how I would be happy doing it. A lot of people I was really friendly with and spent my life with are going rapidly, so I think if I want to enjoy the rest of my life I don't need to be doing something I don't want to do or work with people I don't like.
"On that note I'm just going to do what I need to do. I'm going to go to the 500 and there are one or two personal things I want to achieve in my life and the time has come to do it. John Mecom hit it on the head the other day. He said, 'Roger I've been asking you to come fishing with me for I can't remember how many years. I've been through five fishing boats and you still haven't come with me.' He said, 'Maybe we can go fishing now.'
"And I said, 'You're right John. That says it all.' I'm going to enjoy myself and do the things I want to do while I can."
Bailey was born and grew up in middle England. He started his career working in a local garage while attending Peterborough Technical College and his first job in racing came in 1959 when he was eighteen, working on Jim Russell's cars based at the nearby Snetterton race track. But Russell was seriously burned in an accident at Le Mans, ending his driving career. Russell began to concentrate on building his burgeoning racing school and offered Bailey a job working on the school cars but it didn't interest him and he found a new job building Jaguar racing engines for Don Moore.
"At that time I was more interested in the engine side so I went to work for Don Moore which was great experience," Bailey recalls. "Don had a very close relationship with BMC and at that time Cosworth were beginning to dominate Formula Junior with their 105E Ford engine. There were a few BMC engines running and Don became very heavily involved with the BMC Formula Junior engine. One of the other things Don was doing was building racing engines for the 850cc Mini which had just come out. It was basically the same motor as the Formula Junior motor which was 150 ccs bigger."
Among Don Moore's customers was Sir John Whitmore who raced a Formula Junior Lotus 20 with a BMC engine and an 850cc Mini in the British saloon car championship. In 1961 Whitmore won the British saloon car championship with his 850 Mini which opened the doors to Bailey going to work for the Cooper Car Company and Ken Tyrrell.
"I was very fortunate to be invited by Sir John to be one of his house guests at Oster Hall on many weekends," Roger says. "I had met Jim Clark because he raced Formula Junior cars in 1960 and '61 and Jimmy and Graham Hill were also regular guests of Sir John. The time I spent with Jimmy and Graham down at Whitmore's estate were great days. I'll never forget them."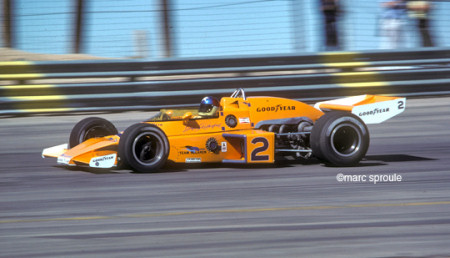 © Marc Sproule
Whitmore also introduced Bailey to John Cooper whose F1 cars had won the World Championship with Jack Brabham in 1960 and '61. Cooper offered Bailey a job on the new factory Mini-Cooper team and after only a few weeks he was asked by Cooper to join Ken Tyrrell's nearby operation. Tyrrell's growing little team prepared and raced both the factory Mini-Coopers and the Cooper Formula Junior cars and Bailey worked for Tyrrell for three years culminating in winning the British Formula 3 championship with a fast-rising Jackie Stewart.
"In 1964 Formula Junior was rechristened Formula 3 and we had a couple of the low-lying Formula 3 Coopers for Jackie Stewart and Warwick Banks and we still ran the Minis," Bailey says. "Jackie was the first champion of the new Formula 3. I think we won twelve out of fourteen races, something incredible. In fact, to this day I still have a watch that I wear often that Jackie gave me. It says 'Thanks for 1964.'
"We had some special BMC engines and I always remember at Reims in '64 we practiced and had engine problems and it had to go back to Abingdon. So Tyrrell booked me a seat on the British Air Ferry flight that used to fly from Lydd to Le Touquet. Jackie had a white MGB and we took the passenger seat out of the his MGB, strapped the Formula Junior engine into the empty space and I drove down to Le Touquet, caught the flight to Lydd then drove up to Abingdon and rebuilt the engine before catching the night ferry back from Lydd to Le Touquet. I drove from Le Touquet to Reims and JYS won the Formula 3 race the next day. People would no more dream of doing that now than flying to the moon. But that's what we did in those days.
"When we had Tony Maggs and John Love, 'The Bear' also drove a third car fairly frequently for Tyrrell when he didn't have his own thing. We would just get on the road with this old Austin transporter that Tyrrell had bought from BRM. It would hold two Formula Juniors, one loaded backwards and one forwards, and we had an open-wheel trailer with a car cover for the third car. We would go to Europe and run for weeks, even months on end, and never go home. We'd go from Caserta in Italy to Syracuse and up to Karlskoga in Sweden. It was just fun."
In 1965 Bailey moved up to the Cooper F1 team, preparing Bruce McLaren's car.
"I was Bruce's mechanic for the last two races he drove for Cooper at Watkins Glen and Mexico City in '65," Roger recalls. "In those days there were just two of us taking care of two cars. Trevor Orchard had Tony Maggs's car and I had Bruce's car and that was it. Mexico City was my last race with Bruce and his final race with Coopers before he started Bruce McLaren Motor Racing."
At the end of the year Bailey was invited to join Alan Mann Racing who ran factory-backed Fords in British and European touring and sports car racing. Mann's team was involved in Ford's giant attack on Le Mans in 1966 and '67 and Bailey was part of it.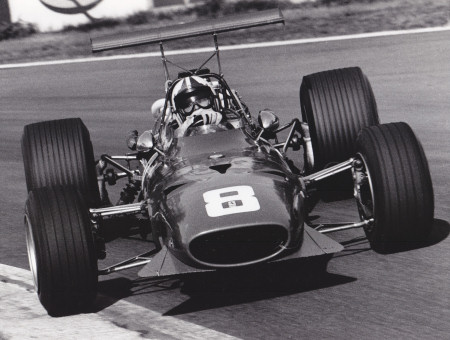 © Nigel Roebuck
"I was sent to Los Angeles in February of '66 to Shelby's workshop on Imperial Highway. It was the old North American Aviation buildings that Shelby had taken over to build the Cobras. Probably six or seven of us were sent over from Alan Mann's shop and there were probably another six or seven guys from Holman-Moody and a similar number from Bill Stroppe plus the Shelby racing team all working together in this building. We collectively built the seven mk 2 GT40s that went to Le Mans in '66 and Amon and McLaren won of course."
During his years with Cooper, Bailey had settled into living in a sprawling house in southwest suburban London he shared with some other Cooper mechanics plus up-and-coming drivers Chris Amon, Mike Hailwood and Pete Revsom.
"I had the bedroom next to Amon and we got to be good friends," Bailey says. "It seemed like the perfect fit for me to work with Chrissy and in the early part of 1967 Chris said to me one day that he was going to do the Can-Am for Penske. One day we were down at the pub for Sunday lunch and the phone rang for Amon. I answered the phone and it was Roger Penske looking for Chris who wasn't there. He asked who he was talking to and I told him and he said, 'Amon's going to do the Can-Am for me. Why don't you come and look after his car?'
"Well, I was really happy. I had a good job with Ford that was paying well and just out of curiosity I said, 'What are you paying?' Roger shot me a number for a week that I wasn't earning in a month at Alan Mann. So I said, 'Let me think about it.' And on the following Thursday I received a ticket by registered mail from Philadelphia. It said, 'I hope you've made up your mind. See you Sunday. Roger.'."
Bailey was picked up at the Philadelphia airport by Mark Donohue who drove him to Newtown Square where the fledgling Penske Racing operation occupied a tiny two-bay garage.
"We had two Lola T70s. Karl Kainhofer and Peter Reinhart had one of them for Donohue and I was taking care of the other car for Amon. Karl kept telling me that my helper was coming shortly. This went on for a few weeks and then one day this pimply youth in a bright yellow Volkswagen screams into the parking lot and hops out. He said, 'Hi, I'm Al Holbert.' Karl introduced us and said, 'He's your new helper.' I said, 'What?!'
"Well, Lorenzo Bandini was killed at Monaco that year and Chris was offered the Ferrari ride. So the next thing was I got a call from Chris to say he was really sorry but he'd taken the Ferrari F1 ride and wasn't allowed to drive anything but a Ferrari. I was disappointed but Penske hired George Follmer and I've got to say I had one of the best seasons that I've had anywhere as regards working hard but having fun.
"We worked all bloody hours. We'd start at eight o'clock and would still be there at eleven o'clock at night and RP would roll up in his suit having been to some fancy dinner and say, 'This place looks like a pig sty.' He'd get out the broom and start sweeping the floor and we hadn't even finished work yet."
© Tyle Alexander
At the end of the Can-Am season Bailey got a call from Amon who told him Ferrari was going to run a car for him in the winter Tasman Series. Amon said Ferrari needed an English-speaking mechanic to help run the team. Thus began Bailey's two and a half years as the first non-Italian race mechanic on the factory Ferrari F1 and sports car teams.
"I flew to Milan in September of '67 and Chris picked me up, took me down to Ferrari where I met (Mauro) Forgheiri and the guys in the factory. Chris told me I was the first non-Italian to ever work at the factory as a works mechanic. A few other guys who worked for David Piper spent some time working at the factory but I was the first ever non-Italian mechanic on a Ferrari works team.
"We built the cars and went off to New Zealand. Jimmy and Graham were in Lotuses, Richard Attwood was in a BRM, Denny had a Brabham. It was a bloody good series and we won a couple of races and finished second to Jimmy in the championship. We had a good time and at the end of the series I got a letter from Forgheiri offering me a job to work with Chris where ever he went, whether it was Formula One, sports cars or the Tasman Series. So I took that opportunity and the next race was the South African GP and for two years where ever Chris went, I went.
"We did the whole of the World Sports car championship that year plus the whole Formula One season. It was great! You can't even begin to explain what it was like to be there in those days and work under the Old Man. You can read all these books but you can't imagine what it was really like unless you were there. He was so respected and it was an experience I'll never forget.
"In 1969 Chris won four of the eight Tasman races and won the championship and when we went back to Italy Mr. Ferrari invited us to lunch. He got up during lunch and said on behalf of Ferrari and our dealers worldwide and in New Zealand and Australia he gave us a big hug and a handshake. He was very warm and talked about my mechanic Roger and I thought I was going to get a handshake. But he put his hand in his pocket and brought out a gold watch and gave me the watch. Chris got the handshake and I got the watch with a little black prancing horse on the dial. It's one of those things that to me is priceless."
Amon and Bailey also campaigned the fearsome Ferrari 612 (pictured with Bailey at left) in the Can-Am series in 1969 amid their F1 and sports car commitments with Amon taking the beast to second at Edmonton and third at Watkins Glen and Mid-Ohio.
"That was probably the most enjoyable time of my fifty years in racing," Bailey declares. "Those two and a half or three years at Ferrari I think were the best of my racing life. They weren't the most successful because we didn't win a Formula One race that whole time. We led a lot of them but Chris and I never won an F1 or sports car race together for Ferrari. We were second in the '68 BOAC 500 with a P4 with Jackie (Stewart) and Chris and finished second at Sebring in '68 with Chris and Mario.
"Chris drove the P4 with Bandini to win at Daytona in '67 before I was there. He was just a sports car driver for Ferrari when he won Daytona with Bandini and then Bandini was killed a few months later at Monaco and Chris got the F1 ride.
"The only wins we had were with the Tasman cars. We won six races in Australia and New Zealand but never won a race in Europe or America when I was with Chris. But that was the way it was with Chris. If there were two ways of doing it and the road turned left Chris would turn right. It was just one those things."
At the end of 1969 Amon decided to take a right turn and leave Ferrari to join Robin Herd's new March F1 team.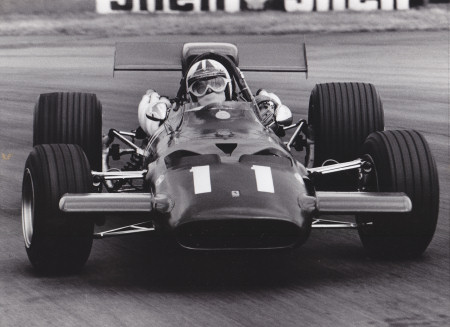 © Nigel Roebuck
"We did Formula One again with Ferrari in '69 and Chris was getting despondent because the motors were blowing up," Bailey relates. "I think seven of the flat-12s blew-up on the dyno. Through his relationship with Bruce, Chris knew Robin Herd who was the designer at McLaren in those days. Robin was putting together March with Max Mosley and Robin offered Chris a deal to drive for March. I was living with Chris in a flat in Modena and he said he was out of there and going to join March. Well, that was about the time that the flat-12 came right and Ickx dominated some races in 1970. It was bad timing on Chris's part, but that was the story of his life."
Bailey went to March to take a look but wasn't impressed and decided not to follow Amon to the new team. Instead he helped build a couple of new BRM Can-Am cars then joined McLaren where he built Can-Am and Indy engines. Bailey moved to Detroit and spent ten years with McLaren.
"I had some fun times as an engine man at McLaren from 1970 through '75. Not only did I get to build the Offys for the Speedway for the likes of Revson, Hulme, Johncock and Rutherford but I also got to build a lot of the Can-Am engines. We had a great program going there right down to the Reynolds 390 aluminum block where there were no liners. We just ran the pistons straight in the block--fantastic! We did a 430 cubic inch twin turbo motor to compete with the Porsche 917 Can-Am cars. Gary Knutsen designed and we built that twin turbo motor and it gave like a thousand horsepower. It gave a glob of horsepower. We could have competed with the 917/30 turbo but we didn't have a transmission or drivetrain that would stand up to it and at the end of '72 Teddy (Mayer) pulled the plug on the Can-Am program.
"I built Rutherford's qualifying engine for '73. There was no limit on manifold pressure in those days and I can remember it like it yesterday. We had a 120 inch manifold pressure gauge in the car and we pegged it. It made almost 1,300 horsepower and Rutherford set that thing on the pole at 199.8 mph. We actually ran a couple of 200 mph laps during practice in 1973 but it was another seven or eight years before Sneva ran the first 200 mph lap at the Speedway.
"I'll never forget that engine. It sounded like a turbine coming down the front straightaway with the manifold pressure gauge pegged. Rutherford was about as brave as Dick Tracy. You'd never guess that the Gentleman John you meet today was the guy who could hustle that thing. Very few people could run around there like Rutherford in that type of car. That was a flat-bottom car with just big wings and no ground effects and not the best of tires. You think about that now and it was pretty bloody impressive."
His work at McLaren ultimately resulted in Bailey becoming IMSA's technical director in 1981.
"I stayed with McLarens through the end of 1980. I took over the team manager's job on the BMW 320 turbo IMSA program in 1977 and when that ran out at the end of '79 I stayed on doing odd jobs for McLaren. Through the IMSA program I met John Bishop. I liked John a lot and we got on pretty well and he said IMSA was looking for a new technical director. Carolyn and I got married in England in September and in October we moved out of Detroit and went to Bridgeport, Connecticut and I was the technical director of IMSA for five years until the end of 1985."
Then came a pivotal step in Bailey's career. He was invited by Robin Herd and Pat Patrick to become a partner in a new series called the American Racing Series planned to run as CART's primary support series starting in 1986.
"Robin called and said they were going to start a new program similar to F3000 in Europe and asked me if I was interested. He said Pat Patrick and Ralph Sanchez were involved and were going to put up some money. Robin was going to put up the cars and he said if I wanted to put up a little bit of money I could run it. I asked what my little bit was and he said it was $5,000 for five percent. So we did the deal. By the time we got to the first race Ralph had gone and it was just Pat, Robin and me."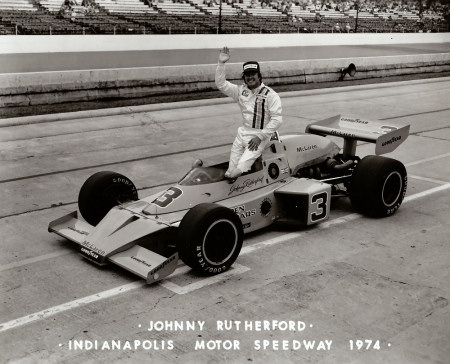 © Racemaker Press
The ARS received a healthy boost in 1991 when Firestone began its return to Indy car racing by supplying tires and sponsoring the series.
"One day in 1990 I was sitting on the pitwall in Denver and Al Speyer came and sat next to me. I'd known Al because in my days at McLaren we ran a Mustang in the Daytona 24 Hours when Firestone were trying to rejuvenate themselves after their steel belt debacle. They built a high performance radial tire with rayon plies and we did the 24 Hours together.
"So in Denver in '90 Al asked me what our deal was with Goodyear. I said it's just a year to year deal. He said Firestone wanted to get back into open-wheel racing and asked if I would be interested in running Firestone tires on the American Racing Series cars. I said maybe, and he asked what it would cost.
"So I said a million dollars because everybody says it'll cost a million. In those days I was getting $75,000 from Goodyear so a million sounded good and Al said he'd get back to me. I thought, wow! So I went to Pat and told him we just had an offer from Firestone to put their tires on our cars for 1991. Pat said he didn't know if we could do that because he was friends with Chuck Pilliod, Goodyear's chairman, and would hate to spoil that relationship. He said, 'How much did you ask for?' I said a million bucks and he said, 'A million dollars? I'm sure Chuck would understand.'
"Al came back a few weeks later and said Firestone had a board meeting and wanted to put Firestone tires on the American Racing Series cars on two conditions. One was that we would change the name of the series to Firestone Indy Lights, which was a no-brainer, and secondly they wanted to put fifteen-inch tires in place of the thirteen inch tires. And that was a good thing because one of the problems we had with the short wheelbase on the old March and a very tall sidewall tire was that it loaded up under cornering and then would spring back like a catapult and put the guys into the wall. It was terrible.
"Just putting the fifteen inch wheel on with a short sidewall totally transformed the car which made everybody think the Firestone tires were wonderful. But that wasn't the difference between Firestone and Goodyear. It was the difference between a very tall sidewall on a thirteen-inch wheel and a short sidewall on a fifteen-inch wheel."
Bailey was able to plan for his retirement thanks to the financial shenanigans involving CART's IPO and its eventual failure after most the team owners sold off their shares.
"In '97 when CART went public they needed a way to define their assets and not to miss an opportunity Pat sold Indy Lights to CART. About five years earlier Pat and I had bought out Robin Herd so it was just Pat and I and he dealt me quite a nice chunk of the action. When we sold the Lights program to CART and CART went public I got a nice chunk of change which I stuck in a bank and which I'm going to retire on.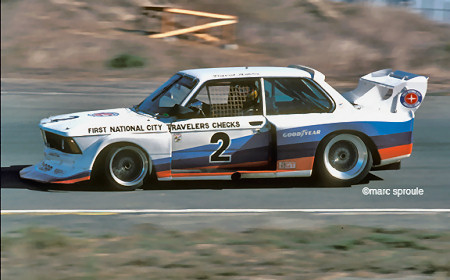 © Marc Sproule
"There was a four-year no compete clause which expired in November, 2001. On November 5th my time was up and four days later I moved to the Speedway and we started the Indy Pro Series. That went for ten years until Mr. Bernard and I had a difference of opinion about what my role should be. After 52 years I wasn't prepared to be that flexible and go in the direction he wanted to go. He was the CEO and I found myself put in a position that wasn't acceptable to me. I didn't actually retire but I had no option but to move on down the road.
"It's been a great ride. I wouldn't change one damn thing. To me the greatest thing of all has been the people. I was very fortunate to be around in the days when there was very little differentiation between mechanics and drivers. We would go to the Tip Top up the hill at Monte Carlo with Graham, Jimmy, Trevor, Bruce and Denny, and everybody else would be in there. It was like everybody was part of it. Now it's so defined between the mechanics and owners and drivers.
"But the people I look back at like 'The Bear' and Hailwood, those guys are gone. I feel very blessed to have been part of that era when it was still fun to go racing. Now they finish the race, put everything in a box and get on an aeroplane and go off to the next one. It's very impersonal now. I think it was much more a team sport with very much more togetherness for want of a better word.
"It's a different era. The cars are so different but there's not a Gilles Villeneuve out there right now. We've taken the driver out of the equation. Look at F1 qualifying today. There will be two McLarens, two Red Bulls, two Mercedes, two Ferraris and so on. There will be some oddball cases thrown in there, but really it's all about the car. Would Jenson Button have been world champion last year in Vettel's car? I think so. But it is what it is."
Bailey also believes IndyCar has seriously lost its way.
"I look at the cars today and they're all the same. George Bignotti said to me last year, 'In my day Roger we used to look forward to the first of May. You wanted to get to the Speedway to see what Wally and Lujie and I had built. There was excitement in the air. Now you come to see what color they've painted them.' And he's right. Apart from a smaller engine with a turbo they all look the same and they're all running pretty much the same. All they've done in my opinion is duplicate what we had for the last seven years.
"All we've done is replace a seven-year old car with a different-looking car that's not necessarily better and done it at great expense to everyone. It's got a different sound, a little bit of a different exhaust note with the turbo and that's good. But it's cost everyone a pile of money and what have we done? We've got the same thing. In my opinion we missed a great opportunity to bring some interest back into Indy car racing and what did we do? We created another Dallara garden party.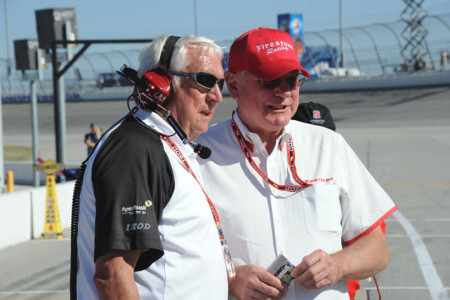 © Dennis Ashlock
"I have my own personal opinion where we went wrong with the engine program. I think we did a disservice by going with a 2.2 liter engine. In order to get horsepower there's no substitute for cubic inches. If you reduce the cubic inches you've either got to increase the rpm or the manifold pressure to get the horsepower you're looking for. The smaller the engine, the harder it works and the more costly it becomes to run the thing. That hasn't changed. You go to a small engine and you're going to rev 'em like hell or run high manifold pressure to get 700 horsepower. And any time you're going to run them that hard they're going to be costly to run.
"I was a big opponent of going to 2.2 liters, not that my vote counted for anything in this latest regime. I would have stayed at 2.6 liters just like the old formula. What costs money in racing engines is rpm and the smaller you go the more rpm you're going to look for. You start to rev the piss out of it and it gets expensive. I think we missed a great opportunity.
"I'm also a firm believer that we should have gone with multiple chassis and introduced some competition. People say competition costs money but when a company's got a captive market they can charge what they want because they know you've got to pay them for it. How does that save money?
"And the other thing is they've driven the American racing industry--guys like Chris Paulsen and C&R Racing--out of the Indy car business. We've alienated a lot of people in the industry. The American racing industry has been driven away from Indy car racing and I think that's a very sad and very damaging thing. We've gone badly wrong, but nobody will listen.
"This is the first year we could genuinely not have 33 cars at Indy, including last year's winning team. It's all screwed up. The people who need assistance from the Leaders Circle program are not Roger and Chip and Michael Andretti. It's the Bryan Hertas, the Sarah Fishers and Dreyer & Reinbolds who need help. Randy Bernard has got it all backwards in my opinion. The Leaders Circle should be going to the teams who don't have the big names and big sponsors. A million dollars isn't going to make a difference to Roger or Chip or Michael whether they're racing or not. But to Bryan Herta, it's everything."
Roger Bailey's era has come to an end. The sport has been passed into less experienced hands with different goals and agendas. But it's a serious mistake not to listen to the advice and wisdom of men like Bailey. As we all know, those who ignore the lessons of times past are doomed to failure.
Auto Racing ~ Gordon Kirby
Copyright 2012 ~ All Rights Reserved