Presented by Racemaker Press

"There's a lot of junk out there today. If you want it straight, read Kirby." -- Paul Newman


The Way It Is/ Recreating Porsche's Paris-Dakar 959
by Gordon Kirby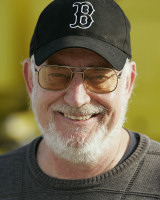 It's easy to forget that the driving forces underpinning motor racing are the passion and patience of the craftsmen who build the cars. Unlike most other sports, long before the contest begins on the track a hugely complex machine has to be designed, built and developed. It takes a massive effort from many people but even in today's computer-driven high-tech age motor sport still lives on the shoulders of highly-skilled, motivated craftsmen imbued with a work ethic of the highest order.
One such man is my neighbor Damon Josz who runs his own Porsche 911 restoration shop aptly-named Series 900. Over the past twenty-five years Damon has worked his magic on innumerable 911 derivatives and is renowned as one of the best Porsche restoration men in the business. He's also an amateur vintage racer and a regular in recent years on One Lap of America.
Damon grew up in Connecticut and moved to New Hampshire in his twenties before starting Series 900 in 1987. As many as twenty 911s can be found around his shop at any one time.
"In my business," he says, "we build any flavor of Porsche 911 whether it's for vintage or club racing or a street guy who says I want that look. The RS and RSR are as popular as ever today. I've built them in yellow, red, green, blue, orange, or in liveries such as Jagermeister or Martini. But all this seemed a little mundane and I wanted to build something different."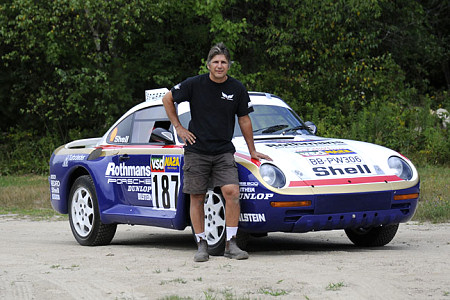 © Paul Webb
The result is Damon's superb replica of three factory 4WD 959s Porsche entered in the 1986 Paris-Dakar Rally. Rene Metge and Jacky Ickx scored a one-two sweep with Roman Kussmaul taking sixth in the third factory 959.
"Looking at style, design and flow, the 959 was a big jump in the 911 look," Damon observes. "It still carried the 911 roof structure but the fenders bulged differently and it had a lower drag coefficient. The bodywork was much different than the street version so I decided it would be really interesting to do the 959 rally car. 959 replicas are not new but the rally version would be."
Damon was further inspired to tackle his project by veteran Porsche engineer Roland Kussmaul who was in charge of development of the 959 rally cars.
"Kussmaul was the brains behind all that and you still see him in the pits at some races today," Damon says. "He's always been and always will be one of Porsche's driving forces in the quest for racing development and endurance.
"I decided to do the Kussmaul car because Rene Metge's winning car is in the museum and I wanted to work on this project from Kussmaul's perspective and in honor of his work at Porsche. Kussmaul and Helmut Bott were the driving force behind the project and Kussmaul was the guy who developed it and actually competed in the car."
Porsche ran three 4WD 959s in the Paris-Dakar with Kussmaul driving one of the cars. It took three years before the 959s were reliable enough to win the legendary event in 1986 with Kussmaul making the finish in sixth place.
"Kussmaul was always driving one of the rally cars," Damon grins. "The chief engineer of the project was out there punishing the car himself so that whenever something went wrong he was there to fix it. It intrigued me that he was that involved proving the car. I have one picture of him digging the car out of the mud. This guy is tough! It's rare to have the lead engineer jump in the car and race it."
The more Damon dug into the project the more complicated and difficult it became.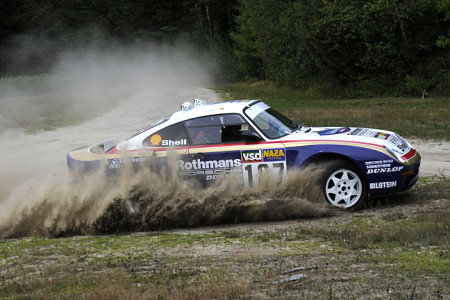 © Paul Webb
"I came up with the idea in 2001," he recalls. "That was the start of looking for the photos and the hunt for the right 4WD 964 chassis to base the car on and utilizing one of two Celette chassis jigs at my shop to make sure it was a straight and true platform. As I studied the photos I realized how different the Paris-Dakar car was from the street version. So I plugged away focusing on one detail and then another. What I didn't know was how long it was going to take to research the details because the photographs of the car that are available are shot from some distance away."
Metge's winning 959 was on display at Porsche's museum but it proved difficult to find the up-close detail photos Damon needed.
"There were pictures of Metge's car but not close ups. I spent many years clawing through the web trying to find photos without much success. Then in the past two or three years detail pictures started showing up. It was all about searching for the Satanic details because the devil is in the detail. Documenting the details so that everything really looks right is what it's all about.
"After reviewing more than 300 photos I could see how the body shape evolved over the three years of competition. But to try to decipher what's underneath the car was very hard because all the photos are outer body pictures. I've never found really good photos of what the cars look like underneath so there are things that you're not going to replicate easily and that includes the 959 suspension. Getting the bodylines right and the functionality of all the pieces right made it a challenging project."
Researching the written history of the car proved equally difficult.
"For a long time I couldn't find much information about it. There were no substantial articles written about it. But in the last few years a couple of articles have appeared. It was a journey that took a long time. It took ten years to complete."
During this time Damon developed a list of components and pieces he needed to complete the project.
"There was a long list of components that had to be fabricated. There were removable body panels with quarter-turn fasteners; the aluminum rear crossmember; the shaved gutters; the cockpit-vented mirrors; the spare tire mounted behind the rear window; the lexan side windows; the distinct hood with its enormous bulge; the long distance fuel cell and pumps; and manually adjustable hydraulic differential and bias controls."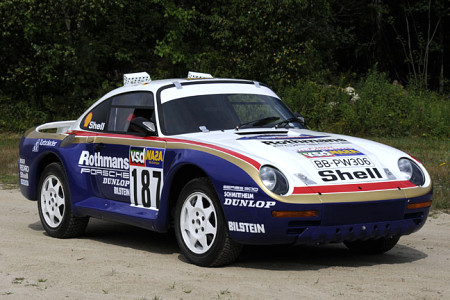 © Paul Webb
Every detail required many hours of work to insure nothing fell short as many replicas do.
"I spent about a week fabricating the upper brake lights on the roof. You're only working from a photo and it's satisfying when you make those pieces and they look right. It's a long process when you have one person trying to figure all that out as opposed to when you have a design or engineering team."
A huge amount of time went into making sure the wheels were right.
"One of the questions was, what were those wheels? These particular wheels never appeared on any other Porsche. I hunted for an answer and everyone kept shrugging their shoulders. But the wheels had to be right.
"I started with 1989-'94 D90 wheels and some machine work and paint provided something close. A friend went to the museum and took some up-close photos of the wheels and then I woke up one night with an aha moment. I had some photos of the wheels as fresh forgings before they painted them and realized that the race department had machined the 'wagon style' wheels from seven-slot 928 forgings."
Working alone most of the time required an imperturbable, never-say-die attitude.
"There were certainly times when I said, what the hell did I do this for? It's easy to see why people bail from projects and the project fizzles or fails and never gets completed.
"Truly, it's very hard to finish a project and have it right. It takes patience and persistence. It's always about the details. I don't know if the armchair critics know how hard it is to get the details right."
After years of work Damon's project came to life when he completed the job by painting the car in its Rothmans colors.
© Paul Webb
"The 959 body had such a flowing shape that it must have been fun for the guys at Porsche to lay out the Rothmans paint scheme on the car. It was a pleasure to recreate and apply the paint scheme. After spending so much time working with all the details of the body in primer this was frosting on the cake. In any restoration or race car build this is the stage when they really come to life and the flower blooms.
"My graphics guy Dale Flewelling at Art Attack Signs took on the task of sorting out the details of the fonts and scaling. He does a fantastic job and as we installed his decals it just looked right."
Damon has built a comprehensive range of spare parts for anyone who wants to buy and rally his 959.
"This car has been built to run in anger. It should be run in vintage rally events like the Targa Newfoundland for example. My plans are to make a limited production of five cars. I hope to sell one car on each continent and have some people who want to run their cars in competitive events. Keep in mind, if it gets damaged, we fix it. I made the molds for all the fiberglas pieces I produce so I can manufacture spares packages, like any race car."
In closing Damon reflected on chief engineer Roland Kussmaul's contributions to the Paris-Dakar 959.
"Taking the car out and driving it in the dirt and realizing the project was finished made me appreciate Kussmaul even more," he remarked. "I thought about all the time and effort Kussmaul and his team put into engineering and developing the car but also in driving and racing it over that period of time. The final validation for me would be for Kussmaul to come up one day and say, 'Hey kid, nice job!'."
Anybody who's seriously interested in acquiring Damon's superb Paris-Dakar 959 replica, using his restoration services or buying some of his rare fiberglas 911 series body parts should go to his website www.Series900.com or call him at (603) 863-0090.
Auto Racing ~ Gordon Kirby
Copyright 2012 ~ All Rights Reserved