Presented by Racemaker Press

"There's a lot of junk out there today. If you want it straight, read Kirby." -- Paul Newman


The Way It Is/ Launching Mario Andretti's career
by Gordon Kirby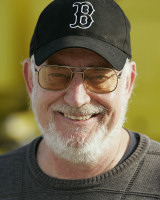 In the second half of the sixties Mario Andretti took the USAC Championship by storm. Between 1965-'69, battling furiously with the likes of A.J. Foyt and Bobby Unser, he won three USAC titles and 30 races. Twenty-five of those wins came driving a series of Brawner/Hawks on ovals and road courses. Five more wins were scored aboard Clint Brawner's Kuzma-Offy dirt car in 100-mile dirt Championship races.
USAC Championship racing on the dirt was at its historic height at the time. The dirt cars were beautiful with no wings of any kind, skinny tires and plenty of power, requiring superb throttle control. Guys like Andretti, Foyt, Parnelli Jones and the Unsers always say those cars were among the most challenging and satisfying to drive and Mario is particularly proud of the three USAC Championships he won between 1965-'69, winning races on the widest variety of tracks of any racing series in history.
"In those days you had to be strong on big speedways, short ovals, road courses and dirt tracks too," Andretti remarks. "You had to be able to win on every type of track and in different cars and we won on all types of tracks. There were 28 USAC races in 1968 and through those years the USAC Championship may have been the most diversified championship in racing. I will match that period of five years in my career with anyone."
During this era Andretti drove for Clint Brawner's small but highly-respected Phoenix-based Indy car team. Brawner's operation was sponsored by Dean Van Lines and later, in Andretti's Indy 500-winning '69 season, by STP. Andretti joined Brawner's team in 1964 as a highly-touted midget and sprint car winner. He ran the second half of the '64 season in a traditional Watson roadster but for 1965 Brawner decided it was time to build a rear engine car.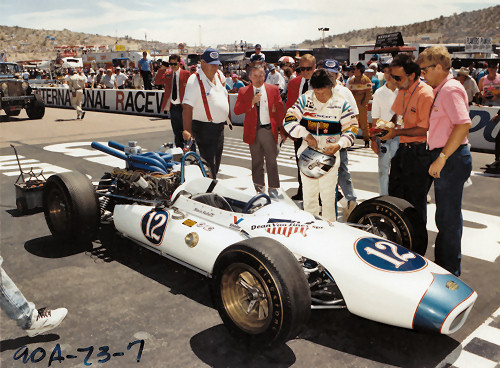 Reaquainting himself with his '65 Brawner/Hawk at Phoenix in 1990
© Racemaker/Torres
Brawner liked the clean, strong and straightforward rear engine car Ron Tauranac had designed for Jack Brabham to drive at Indianapolis in 1964. Brabham's Offy-powered car was owned and entered by John Zink and Jim McElreath drove the car for the rest of the '64 season. McElreath put the Brabham on the pole at Trenton and had a couple of good runs in the car convincing Brawner that it was the way to go. At the time, Jim McGee was Brawner's young chief mechanic.
"We made a deal with John Zink and his chief mechanic Denny Moore to build a couple of cars based on the Brabham they had run at Indianapolis," McGee recalls. "We kept watching that car and it was really fast. So we made a deal with Zink. We said if you give us the car to copy, we'll build three cars, two for us and one for you with four-cam Ford engines. He said okay, so we took the chassis to Phoenix, built the jig and fixtures and built three cars with Ford engines in them."
It was a busy winter as Brawner, McGee and Andretti worked flat-out in Brawner's little shop in Phoenix. "We built those three Brawner/Hawks and we also rebuilt the dirt car," McGee says. "There were just four of us working on those cars--Clint, myself and Mario—and we also hired a young fellow named Tony Buffone. It was a big job to build three cars over the winter with just four people. We built those cars in Clint's little garage and Eddie Kuzma put the bodies on for us. Those were beautiful cars."
Called Brawner/Hawks the new cars were different from the original Brabham because they were equipped with proper fuel cells located on either side of the cockpit as low and far to the outside as possible to produce a lower center of gravity. It took all winter and more to finish building the three new Brawner/Hawks and Andretti raced the previous year's roadster in the first two races, finishing second at Trenton to Jim McElreath in Zink's Brabham-Offy. The Indy 500 followed.
"We went to the Speedway with our untested rear engine cars and no experience at all with rear engine cars," McGee remarks. "We lost a motor during the first couple of days when Mario was going through his rookie test. So we were behind all month and we didn't have any spare engines which meant we had to run a blend of ten percent toluene and alcohol. So we qualified fourth behind Foyt, Clark and Gurney.
"All of them were running ten percent nitro and we were running ten percent toluene. Nitro gives you about ten percent more power and toluene takes away about ten percent of the power so we were twenty percent down on the fuel we were using, or about sixty or seventy horsepower down on those guys."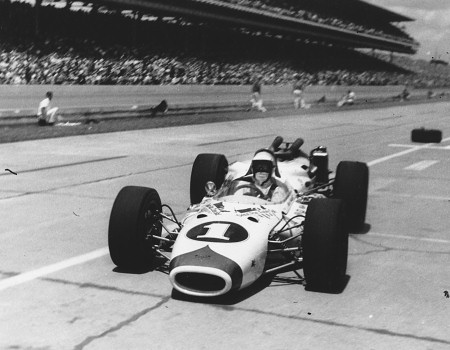 © Rackmaker/Knox
Andretti believed he was in good shape for the 500 and was able to finish an impressive third in his first race in a rear engine car behind Clark's factory Lotus-Ford and Parnelli Jones in J.C. Agajanian's Kuzma/Lotus-Ford.
"Mario had never driven a rear engine car and it was amazing to qualify fourth with a car that we had no experience with," McGee recounts. "Denny Moore gave us the springs and shocks that they ran at Indy the previous year. But the car was unbelievably good."
The only problem was the new car got very hot, burning Andretti's hands and feet.
"We cooked Mario during the race because the oil tank and radiator was up front," McGee recalls. "We didn't have enough ventilation to pull the hot air out and it blistered his feet and hands."
Nevertheless, it was a great maiden run for Brawner's first rear engine car and helped launch Andretti's career. He was an easy 500 rookie of the year winner and scored his and the car's first USAC Championship victory at the Indianapolis Raceway Park road course in July, 1965, beating Bobby Unser and Roger McCluskey across the line.
"When Mario won his first race at IRP in '65 we were running a two-speed Halibrand transmission and some of the other guys were running five-speed Hewland gearboxes," McGee points out. "It was amazing how he did that. I think it was because the Hawk had so much more downforce than most of the other cars and Mario was able to get into the corners and not lose as much speed and therefore he was able to compete with those guys with a two-speed gearbox. I still don't know how he did that."
© Racemaker/Knox
Andretti won only once that year but a string of seven, second places and a pair of thirds were enough to enable him to beat Foyt to the USAC championship. With the help of Brawner and McGee, the little man from Nazareth was on his way to carving out one of the most remarkable careers in the sport's history. In the next few years, in addition to winning two more USAC titles and the 1969 Indy 500, he won the Daytona 500 in 1967, made his F1 debut at Watkins Glen in 1968 and won the Sebring 12 Hours three times in 1967, '70 and '72. Much more success would follow in Indy cars, F1 and sports cars.
Meanwhile, it's interesting to reflect on the lessons of the Brawner/Hawks. Something nobody counted on was the ground-effect achieved by the car's wide shape and flat bottom.
"It was nice and clean but we had that big flat bottom on that car," McGee explains. "The other guys--the Lotuses and so forth--were sleek, cigar-shaped cars. A.J. Watson used to call our car a bathtub. We had this bathtub with the oil tank in front and the oil tubes running from the radiator down the side along the bottom and they were acting like little skirts.
"The 'bathtub' had so much bodywork area and a flat bottom that created a bunch of downforce. This was before anyone had discovered that you could make downforce from the car rather than being mostly concerned with the speed down the straightaway.
"Years later, we figured out we had probably a thousand to 1,500 pounds more downforce than anybody else. We had ground effect and didn't know it. The next year we put little chin spoilers on the nose and we put a ducktail on the back end. It all helped.
"The 'bathtub' turned out to be a much better design than the sleek, narrow Lotus-type car. It was one of those instances where we didn't know what we were doing but it worked much better than the concept that most engineers had at the time."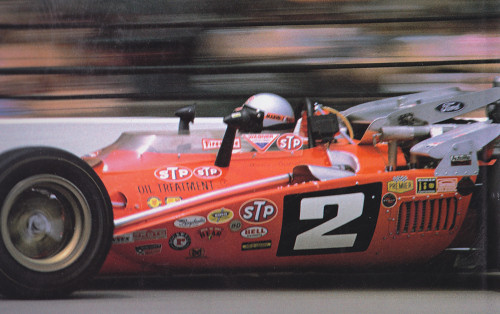 © Bob Tronolone
Brawner and McGee had invited Roger Penske to test their roadster before offering the Dean Van Lines ride to Andretti. Penske's growing business commitments prevented from driving an Indy car and he would soon retire from driving to concentrate in building his business empire and race team while Brawner and McGee turned to the promising Andretti to drive their new car. Penske acknowledges that Brawner, McGee and Andretti represented the cutting edge in those days.
"Brawner and McGee were the first guys to jump on the rear-engine Ford V8 car after Chapman and Lotus showed what that configuration could do," Penske says. "With Mario driving and helping develop that car they won a lot of races and championships. Brawner and McGee were innovators at that point in time and they were way out in front with the rear engine cars. They put a lot of development into the Brawner cars through the Hawk that they won the 500 with in '69."
The original Brawner/Brabham was powered by a normally aspirated Ford V8 and ran without any wings although in 1966 Brawner and McGee added small tabs to the nose and a ducktail. By '69 the Indy-winning Hawk III was built around an aluminum-sheeted, tube framed monocoque chassis. A proliferation of wings from nose to tail added considerable downforce and cornering speed and a turbocharged Ford engine provided much more power. The Hawk characterized the rapid development of the Indy car through the late sixties.
"I won a lot of races with that car, and that concept," Andretti grins. "At the beginning, there was no aerodynamic aid. Everything was mechanical and the car was very sensitive. Brabham reinforced the original chassis so it was stiffer, which is what you needed for the ovals where you need good weight transfer.
"That car really worked for me and I really began to understand what it wanted. I really knew how to set the car up myself, to really tweak it. I used to pre-load the bars so the roll bar was creating some crossweight.
"In the hands of Brawner and McGee we really got that thing working. We developed some aerodynamic aids as time went on and they only made it better. That was a great car for me. It launched my career really well. I became a factor right away and it was a pretty car as well, wasn't it?"
Indeed it was. Would that the sport today enjoyed such beauty, rapid development and free thinking.
Auto Racing ~ Gordon Kirby
Copyright 2013 ~ All Rights Reserved