Presented by Racemaker Press

"There's a lot of junk out there today. If you want it straight, read Kirby." -- Paul Newman


The Way It Is/ Jim Hall and his Chaparrals
by Gordon Kirby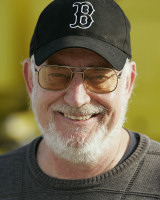 Fifty years ago in the summer of 1965 Jim Hall and his Chaparral team dominated American road racing. Hall and his partner Hap Sharp won the Sebring 12 Hours in March aboard their Chaparral 2-Chevy and went on to sweep that year's United States Road Racing Championship, winning eight of nine races between them. Hall won at Riverside, Laguna Seca, Bridgehampton, Watkins Glen and Seattle. Sharp won at Castle Rock and Mid-Ohio and they drove together to win the 500-mile race at Elkhart Lake.
"Hap was a wonderful partner," Hall says. "We were equal partners in Chaparral. He was running his drilling company and he'd come out after lunch sometimes and we'd go over what we were doing. Hap had a lot of ideas. He was a smart guy and a talented driver. We talked cars all the time.
"If you could bounce something off somebody and they've got an interest like you do then a lot of BS goes on. But you can critique each other and a lot of times you'll come up with something. It really worked good for us and if it really came down to it, if I said we're going to do it this way, that's the way we did it. So it was a perfect partnership.
"We went to Riverside in 1965. I had the new car and it was quicker. I was out there putting it on the pole and the rear suspension broke. I was lucky not to hit anything and we did what we thought we ought to do to make it work and I'll be darned if it didn't do it again in Sunday warm-up. So I wasn't going to take a chance on it and I parked it. Hap went out in the older car and I'll be damned if he didn't beat Jimmy Clark."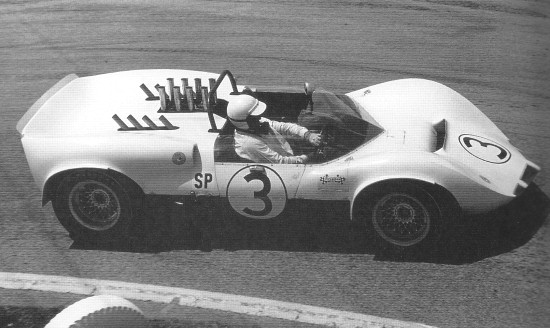 © Dave Friedman
Roger Penske drove Hall's Chaparral 2 in 1964 and also worked as Chaparral's team manager in 1964 and '65. In '64 Penske started ten races aboard a Chaparral taking four wins and four second places. He concluded his driving career by winning two races at Nassau in November of '64 aboard a Chaparral.
"Roger and I have been friends a long, long time and we raced against each other in a way that made us understand something about each other," Hall remarks. "I think we had a mutual respect. Certainly I had it and I think he does. He's a wonderful competitor and a great racing man. He's achieved an awful lot and I can always say I taught him everything he knows.
"Roger filled in for me in '64. We had a really good car and were running quicker than most everybody in the USRRC. I got off the road and into a ditch at Mosport and broke my arm. I couldn't compete for at least a couple of months so Roger came in and filled in for me and did a great job for us. I think he enjoyed it and he won some races in the car. I really enjoyed working with him. It was not a difficult task at all. It was easy and Roger finished the season in a really neat way for us."
In this space last month Hall explained how Sharp, he and their little team of mechanics comprising Franz Weis, Troy Rogers and engine man Gary Knutson sorted out and refined the aerodynamics of Chaparral 2. This week Jim elaborates on how his relationship with Chevrolet took shape.
"It was a long relationship and it changed as we went along," Hall remarks. "It was not the same all the time. I got to know Chevrolet one time up at Elkhart Lake when Bill Mitchell brought his special cars up there. I saw him at dinner at 'Seibkens' and he asked me if I wanted to drive the StingRay which was brand new. We had never seen it at that point. He said meet me out at the track at six o'clock tomorrow morning. He drove it for a little bit and scared me to death. I said, 'Is it okay if I drive?' And I did and enjoyed the car.
"So Bill asked me to come down to Detroit to see his 'skunkworks' where he had a lot of projects going on. I went there and he introduced me to a fellow that ran a small division of General Motors called Chevy R&D. His name was Frank Winchell. They were building a little monocoque chassis out of steel for a Corvair project and he wanted to show me that. I had already started our Chaparral 2, which was a fiberglas reinforced monocoque sports/racer, so I was interested to see their Corvair project.
"They were working on this Corvair monocoque car and they wanted to do some test work in the winter. So they started using our test track, 'Rattlesnake Raceway'. We had a customer who was coming down, renting the racetrack and using some shop space to do some test work. That's the way we actually started the relationship with Chevrolet. I did quite a bit of test driving in the Corvair for them and that's how I got to know a lot of people at Chevrolet."
Hall credits Hap Sharp for suggesting the use of an automatic transmission in Chaparral 2.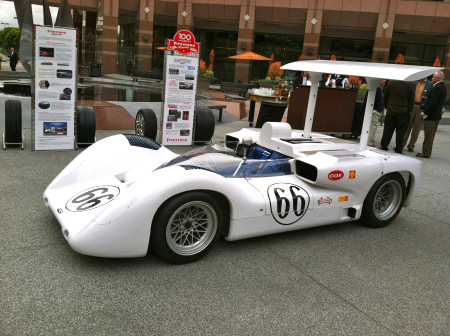 © John Oreovicz
"In the meantime we were building Chaparral 2 and we had mocked up a Corvair transaxle upside-down and backwards with a convertor in it," Hall says. "I always give Hap credit for that because the first time we put the car together we had a Chevy V8 in it and a manual transmission. I was testing it without any bodywork and Hap said he wanted to drive it.
"So he got in and drove it and came in and said it'll spin the wheels in any gear you put it in. We thought about it and I always credit Hap with the idea. We decided let's go for a single speed with a torque convertor to get it off the line.
"We were doing that when Frank Winchell showed up one day. He looked at it and said, 'Did you guys know I was a transmission engineer?' He said he was at Allison for ten years before he got his job with Chevrolet. He said he thought what were doing was a pretty good idea and said he'd like to take a look at what we were doing.
"Lo and behold, about six months later they showed up with a car they called the GS2 which was the sequel to the Grand Sport with this transmission in it. I drove the GS2 and helped develop the suspension. We ran that little transaxle and when we got to 1964 we had run it enough that I thought it worked good and had some pretty good confidence in it. So I said, 'Can I borrow one of those?'
"So I got one and we ran it for the first time at Laguna Seca in 1964. It was a single-speed and somebody asked what it was. I said it was an automatic transmission. Well, it was. You put it in gear and away she went!"
Hall's relationship with Chevrolet helped pay for the Chaparral racing operation by giving Jim plenty of work as a test driver.
"We did a lot of test work for Chevrolet and they paid us for doing it," Jim says. "It was a great thing for us to have. It was a business relationship that didn't have much to do with racing. We got to know a lot of people who were shakers and doers in Detroit. They liked us and we liked them and we worked hard for them and I think we showed them some things. I did a lot of test work on CERV2. That car actually had that transmission in it.
"Frank was smart enough that he didn't want to put one of his young engineers in the car and get one of them hurt. So he decided the thing to do was to hire somebody that was a professional and I got to do it. I probably put in more miles over 1964 and '65 on a test track and on our track and I think that's what really made me a pretty good development driver and helped me race better. If you just put in the miles it really makes a difference."
Further technical and financial support came from Firestone.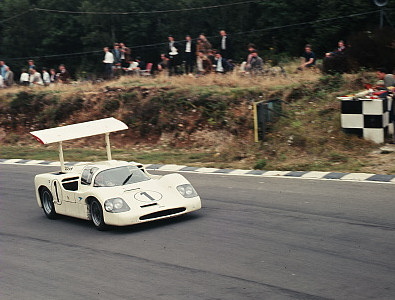 © LAT USA
"We got involved with Firestone at about that time," Hall relates. "We were doing a lot of test work and they started supplying tires for us to go racing. It was a great deal and helped us with our budget.
"They would send us tires and we decided we really didn't know how big the wheels ought to be so we started making wheels that you could put a spacer in. To start with the wheels were about five or six inches wide and the rubber was about that wide as well.
"So we started going to wider tires and Firestone would build them for us. We went from a six-inch wide tire to a seven-inch to an eight-inch. The first thing we would do was run it round the skid pad to get a feel for it, then we'd go out on the track and run it.
"We showed up for the next race with the car on seven-inch rims and by the end of that year we'd gone to running twelve-inch tires on the rear and ten-inch tires on the front. For one thing, you couldn't spin the wheels all the time anymore."
The tire development with Firestone in turn helped develop the transmission.
"We put another speed in the gearbox and we were actively shifting it," Jim grins. "It was just a dog-clutch gearbox with a torque convertor in front of it. So you just backed-off the throttle and shifted it."
In 1966 and '67 Hall and Sharp ran a team in Europe's long-distance world championship sports car races against factory teams from Ferrari, Ford and Porsche. In 1966 they won the Nurburgring 1000Ks with Phil Hill/Jo Bonnier driving a 2D and the following year a high-winged 2F driven by Hill and Mike Spence won the Brands Hatch 1000Ks.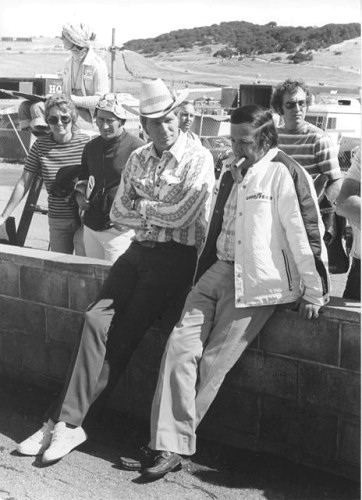 © Jutta Fausel
"I'm really proud that we were able to pull off those wins at the Nurburgring and at Brands Hatch," Hall says. "We had a lot to do to get it done. We raced over there the same as we did here in the States. We had white Chevy pick-up trucks and open, single-car trailers. We hauled the cars all over the country with these pick-up trucks and open trailers. Any spare parts we had were in the pick-up under a small camper top. And we went to Europe the same way. We shipped those rigs over there and that's how we got around to the races.
"We had a problem with the Firestone wet tires at the Nurburgring. They just didn't drain well enough and the rubber compound wasn't good enough to work that way and we decided to see if we could fix it. We just took a tire iron and cut a rib out of them so they had less area on the ground and they drained better. It was taking a chance because you know you're putting more energy into the rubber and you could overheat it. It hadn't been fully tested but we did run them so we knew what they did.
"When I wanted to put them on for the Nurburgring I got a pretty good look from Phil, but he finally said 'Yeah, let's go.' And by golly, that was the right thing to do because they worked. That was a really fun deal. Somebody told me after that race it was the first American car to win a major European road race in forty years and I thought, 'Wow!'."
Hill scored Chaparral's only Can-Am series victory at Laguna Seca in 1966 in addition to winning for Chaparral at the Nurburgring and Brands Hatch. Hall had tremendous respect and admiration for America's first World Champion.
"Phil Hill was a big part of my racing life," Hall remarks. "The first major road race I ever went to was Pebble Beach in 1955 and Phil won that race in the rain in a Ferrari Monza. That was the first time I saw a road race like that so he was immediately a hero of mine. My older brother ended up buying Phil's Ferrari and they took it back to Pebble Beach in 1956 and Carroll Shelby won the same race in that car. That car was suited to that track and Phil and Carroll won the last two Pebble Beach road races in that car. I still have it!
"I knew Phil a long time and when we decided to go endurance racing Phil was one of the first guys that we wanted to try to get to drive for us. After he won that Riverside race Hap pretty much decided he wasn't going to race anymore. I wanted to take two cars to the Can-Am races and I asked Phil if he wanted to do that and he said yes.
"I really had a good time with Phil. He was a wonderful man and a real talent. I think he had more ability than a lot of people gave him credit for. He was plenty quick and he knew how to take care of the car. He was a car guy and he knew what you needed to do to get to the end.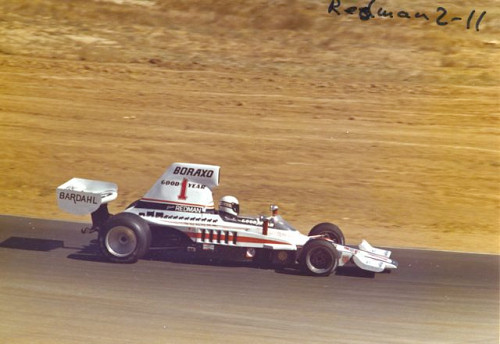 © Racemaker/Dennis Torres
"With that torque convertor transaxle we had you didn't have a clutch. You just matched the rpm with the engine. The guys always used to say my transmission looked like it had never been used and everybody's else's transmission came in with chips out of the dogs and other damage.
"One day they told me Phil's transmission looked like mine. The guy was a really good driver and a gentleman and he was also a wonderful guy to be around. I'm proud to say that not only did I see Phil win the first major race I watched but he drove my car and won in the last race he drove at Brands Hatch. That was nice."
Jim always said he got the most pure enjoyment from racing when he partnered with Carl Haas in the US Formula 5000 championship from 1973-'76. During that time Haas/Hall Racing won F5000 the title with Brian Redman three years in a row.
"Formula 5000 was so much fun because it was kind of an easy car to maintain and I didn't have to raise the money. Sometime in 1971 Carl Haas came and said, 'Let's go to Indy.' He said he would raise the money and I would run the team. So I said, 'Okay, you've got a deal.'
"Carl came back a little later and said he didn't raise enough money for Indy but had enough to do Formula 5000. I said, 'What's that?' He told me about Formula 5000 and I said, 'Yeah, I'll do that.' It really took the pressure off as far as being out there trying to put the budget together and doing two jobs at the same time. I got to run the race team and didn't have to worry about finding the money.
"Brian Redman drove for us and he did the best job that I could imagine. I've got a lot of respect for Brian. He can drive the car. If it isn't right he can do a good job with it and if it's right he'll really do a job with it. We finished so many races and won so many races during those four years that it's hard for me to imagine that we were able to do that.
"We had good reliability and Brian took care of the equipment and was quick enough to win. I'll guarantee you the last ten laps of the race I wouldn't have traded anybody for him. He might not have put it on the pole but it wasn't because he didn't want to. He didn't have to."
Hall went Indy car racing for the first time in 1978 and showed everyone a few things by winning all three USAC 500-mile races with Al Unser driving a Chaparral/Lola-Cosworth DFX.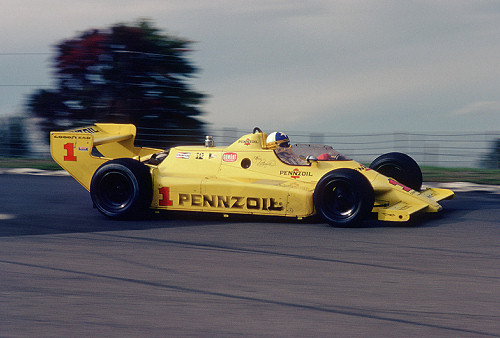 © Racemaker/Paul Webb
"Al Unser allowed us to go to Indianapolis and win it the first time," Hall says proudly. "I was able to put together a team that was capable of winning and Parnelli helped because they had been running Cosworth engines. One of the reasons I didn't want to go to Indianapolis was because I didn't know anything about an Offy or alcohol. I knew it was a whole new experience.
"Parnelli had been running Cosworths and then Cosworth decided to make a turbo engine for sale. So the year we decided to do it I was able to hire Al Unser and we could go and buy Cosworth engines. I got Eric (Broadley) to build a car and it all came together for us."
Two years later Johnny Rutherford won the Indy 500 and 1980 CART championship driving Hall's Pennzoil Chaparral 2K while Gil de Ferran scored his first two Indy car wins driving Jim's Pennzoil Reynard in 1995 and '96. Hall retired from running a race team at the end of 1996 after a career spanning forty years.
"Johnny Rutherford did a great job for us at Indy and won the championship as well," Jim says. "Gil de Ferran is a really good guy and a great racing driver who also did a great job for us."
Hall also tips his hat to Dan Gurney.
"I raced against Dan Gurney for a long time," he says. "And he was a gentleman on the racetrack and a hell of a race driver."
In closing, Hall says everything he achieved in racing was due to the people who turned the wrenches building his cars and engines.
"I've been lucky in a lot of the things we did," Jim observes. "You can't just think you did it all yourself. It's the people that help you do things and the talent that you manage to have working for you that's what it's all about. I've got an awful strong feeling for the people in racing who helped make it work."
There's no question that Jim Hall stands in rare company with his friends and rivals Roger Penske and Dan Gurney among America's greatest racing men of all-time.
Auto Racing ~ Gordon Kirby
Copyright ~ All Rights Reserved